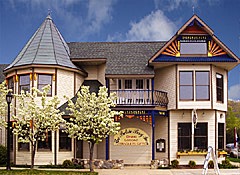 Looking for something light and easy? A romantic dinner for two? Whatever the occasion, Chef Matt and our top-notched restaurant staff is waiting to wine and dine you.
Serving our Classic American Bistro cuisine, we are open for breakfast, lunch and dinner, from 8am – 9pm, every day of the week during our peak season and from Labor Day to Memorial Day – Friday, Saturday and Sunday only.
From a gourmet Mac 'n Cheese to 'end all' Mac 'n Cheese, to a delectable Duck Tenderloin entrée that'll melt in your mouth, we proudly offer a wide selection of quality (and locally!) prepared food, served with panache!
Our robust beer selection and varied wine list is second to none in the area. Ask to see our unique Old World wine cellar, or reserve it for your own private wine tasting, with some of the premiere wines of the world!
The Hotel Frankfort
Centered in Frankfort's historic Main Street, just two blocks from one of the most picturesque beaches of Lake Michigan, sits the historic Hotel Frankfort. Our 83 year old boutique hotel boasts 17 guest rooms, all with private baths, individually controlled heating and air-conditioning units and each decorated with a unique theme. Our larger suites feature whirlpool tubs or sauna, two-story rooms, and even a fireplace – perfect for your spectacular Northern Michigan getaway!
Feel like dining in? We have a full scale restaurant, dining room and bar along with corporate conference facilities, with gourmet catered meals available for gatherings of up to 200.
Come let us serve you in style and experience all Northern Michigan has to offer. From biking, to fishing our famous Salmon runs, snow skiing, sailing, or experiencing a great meal at one of our many unique restaurants, or even just watching a gorgeous sunset – Frankfort is the perfect place to explore! Whatever your pleasure, you'll be charmed by The Hotel Frankfort's blend of old world graciousness, modern-day amenities and peerless personalized service.
The Hotel Frankfort
231 Main St.
Frankfort, MI 49635
231-352-8090
<>
Visit The Hotel Frankfort Website >>>
<>